Living in the fast lane...........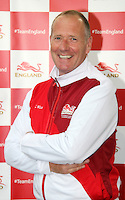 For Andy Halliday, the opportunity to manage the GB Men's Olympic hockey team in 2012 was the pinnacle of an enthralling journey. After a career spanning three decades policing London and balancing the demands of international sport, he is able to reflect on a wealth of experience at the sharp end of life.
Whether it is the crime frontline of eighties Britain or the fight against terrorism in the nineties, he has a story to tell. With such despair at the bombings of July 2005 contrasting the joys of July 2012, he has witnessed, first hand, the very worst and the very best of life in our capital city.
From International sport to high performing specialist police teams, he now draws on some incredible experiences and talks openly of life in an elite team environment. "You've got to experience the lows to enable the highs". Its not just about success, his story encapsulates joy, despair and pretty much everything in between.
However, he is a man who never forgets the grass roots of the sport he has enjoyed playing for nearly 50 years. He is back coaching at his former club, St Albans. An ambassador for disability hockey, hockey4heroes and the Director of hockey for the FRE Flyers, an incredible set of Newham youngsters who took up hockey as part of the legacy of the 2012 Olympics.